Ohiopyle Falls at Ohiopyle State Park, PA
Within the heart of Ohiopyle State Park lies its most popular feature, the Ohiopyle Falls, made up of the Youghiogheny River taking a twenty-foot fall with a roar. The great waterfall appears different about every time you see it thanks to this mountain river's varying water levels. In the winter and spring, the waterfall stretches from side to side in one huge wallop, while the summer and autumn often shows a more refined waterfall with a wall of rock on each side.
The most popular spot to view the cataract is from the park's day use area. However, if one ventures along Ferncliff Peninsula they can get an up close and personal view of it from some rough rocky terrain.
Ohiopyle Falls at Sunset in Ohiopyle State Park, PA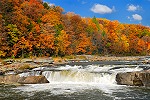 Location: Ohiopyle State Park, PA
Season: Autumn
Added: Nov 25, 2007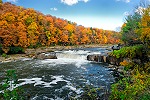 Location: Ohiopyle State Park, PA
Season: Autumn
Added: Jul 14, 2007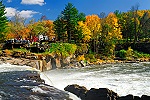 Location: Ohiopyle State Park, PA
Season: Autumn
Added: Nov 5, 2006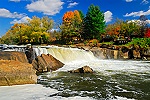 Location: Ohiopyle State Park, PA
Season: Autumn
Added: Nov 5, 2006
Location: Ohiopyle State Park, PA
Season: Autumn
Added: Nov 5, 2006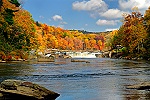 Location: Ohiopyle State Park, PA
Season: Autumn
Added: Oct 29, 2006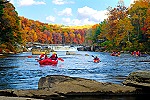 Location: Ohiopyle State Park, PA
Season: Autumn
Added: Oct 29, 2006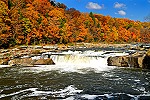 Location: Ohiopyle State Park, PA
Season: Autumn
Added: Oct 29, 2006